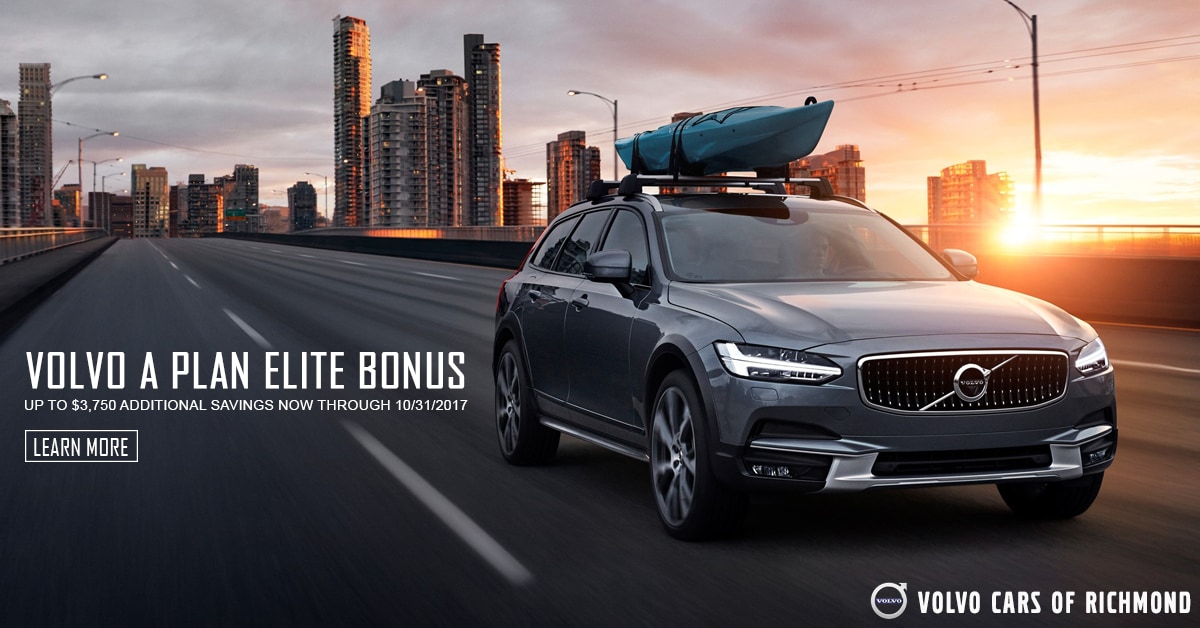 There is no easier or simpler way to buy one of our world-class vehicles.
A-Plan by Volvo takes the guesswork and negotiating out of the purchase. Furthermore -
you are guaranteed preferred pricing, the same attractive pricing Volvo employees enjoy.
The price equals the vehicle's factory invoice price and represents a substantial discount versus the vehicle's
Manufacturer Suggested Retail Price. When you purchase a new Volvo under the A-Plan by Volvo program,
the price is set and there is no negotiation with the dealer. All new vehicle invoices have the A-Plan by Volvo
price clearly printed on the new vehicle invoice. Additionally, customers can find A-Plan pricing on the 
www.aplanbyvolvo.com
 website, so there is no mystery as to what you pay for the car.
In addition to attractive A-Plan by Volvo pricing, you are eligible for any applicable retail incentives at the time
of purchase. At Volvo Cars Richmond - we can help you determine which incentives are applicable.Vehicles
may be purchased directly from our exclusive Volvo new-car inventory, or special ordered*.
The A-Plan by Volvo Corporate Partner program is offered to active employees, their spouses, and members
of their immediate household of selected US and Canadian business partners and fleet partners having a unique
relationship with the company.
All active full- and part-time employees of partner companies are eligible for the program. Eligible employees are
limited to two (2) A-Plan by Volvo purchases per calendar year. At the time of purchase, eligible partner company
employees will need to present proof of employment to the Volvo retailer. Accepted proof of employment documents
include a copy of the employee's current paystub showing the company and purchaser's name, a copy of the
employee's W2, or a copy of their corporate ID badge or business card showing the employee's name as well
as the partner company's name.
Visit 
www.aplanbyvolvo.com
 for more information on A-Plan by Volvo. If you feel you meet eligibility requirements -
simply call us at877-372-1319. We're happy to walk you through the easy process of enrolling in this special program.
*Please allow 8 to 10 weeks for delivery of special ordered vehicles.