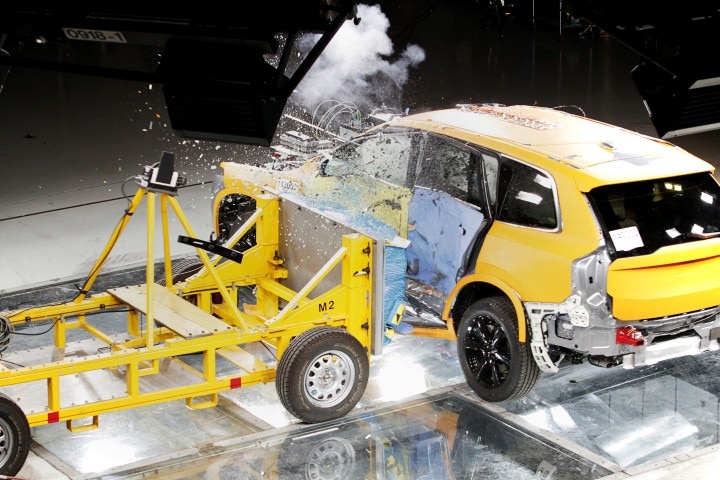 At Volvo, safety is the most import piece of an automobile. Advancing the idea of safety are features that are designed to take it a step further. These include active safety technology and features that keep a Volvo on the road. 
Volvo calls this IntelliSafe. 
What is IntelliSafe?
It starts with a vision. Volvo believes that by making its cars safer than ever, that "No one will be seriously injured or killed in a new Volvo by 2020." This is what drives IntelliSafe. 
To keep focus on that vision, Volvo put together an extensive suite of safety features - both passive and active - that make up IntelliSafe. These include innovations engineered by Volvo for use in their vehicles. Innovations designed to foresee situations that are a part of every day life. 
The features that comprise IntelliSafe include:
Adaptive Cruising
360-degree Camera
Active High Beam
Park Assist Pilot
Lane Keeping Aid
Blind Spot Information
Pedestrian Detection
Cyclist Detection
Forward Collision Warning
Pedestrian Airbag
Three-point Seat Belts  
Stronger construction using Boron and other light super-strong steel
All of these features are pretty self-explanatory. Their functions are exactly what they are intended. The driver for most of the features is advanced camera and radar technology to detect situations for each function to work. Once detected, some features will utilize the braking and steering system, as well as the throttle, as a way to completely avoid an incident upon detection. 
However, they are also inter-connected. To ensure optimal safety, these features will have an action and a response. Since 1959, Volvo installed seat belts as standard equipment on all its vehicles. Today's seat belts are designed to be tensioned upon impact, to ensure occupant security. The chain of response through technology allows for a quicker response to the seat belt tensioning system to make sure all occupants are in their seats securely, as all systems - including passenger air bags - work towards keeping everyone inside the Volvo alive. 
From big innovations come the smallest details. This is true about Volvo's approach to vehicle safety. It is exactly what makes a Volvo.