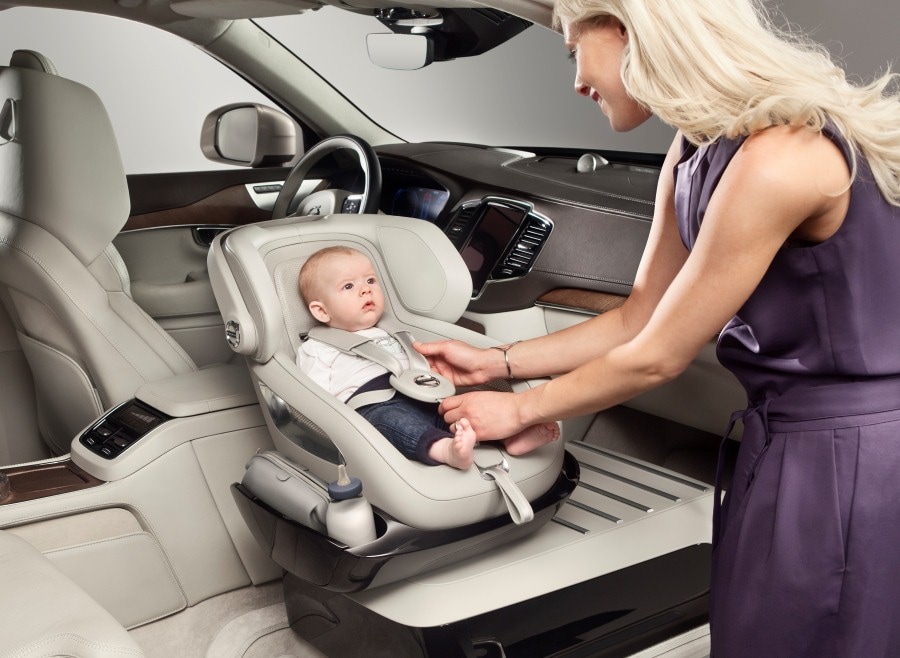 Volvo believes in engineering and producing vehicles that is safe for everyone. That also includes keeping children safe.
Certainly safety is common sense, but children need a little extra care. That does not mean that Volvo can't be ahead of the curve when it comes to protection those precious passengers.
That is why Volvo created a new concept for child safety, called the Excellent Child Seat. It is part of the many ideas brought on by the 2016 Volvo XC90. It takes the idea of lowering the front passenger seat to a flat location, where a purpose-built child seat is attached. The seat sits of a mount, where it could be swiveled for a parent to easily load, unload and help the infant when they need it. The child seat could also be folded almost flat for the infant or toddler to sleep. The normal position is rearward as it is the standard for child safety until the age of 3 or 4.
On top of the child seat position, Volvo created provisions for supplies needed to keep the infant happy and healthy. Storage for diapers, bottles, blankets, wipes and other infant supplies are available when the passenger seat is folded down for use.
Until this comes to our showroom, all Volvo vehicles are designed to accommodate the required seats from infants all the way to older children. Volvo's engineers made this clear by saying that "children are small versions of adults." Please make sure to follow the requirements for seating based on the age of your child. There are a few things to consider when traveling with a child in your Volvo:
-          Always make sure the child is properly restrained. That includes going on short trips as well.
-          Choose a child restraint that is suitable for your child and car model.
-          Remove bulky clothes so that the safety belt is tight and the child does not get too hot.
However, keep in mind these things that you should not do when driving with children on board:
-          Never drive with an unrestrained child in the car.
-          Never place a child in the passenger seat with the airbag active.
-          Never fasten a child shorter than 55 inches (4-foot-6 inches) with just the standard safety belt. It must be used in combination with a booster cushion and only by children who have outgrown their child seats.
Keep in mind that Volvo has built child safety in every one of their vehicles. These features include ISOFIX/LATCH anchor points and three-point seat belts, which are designed to ensure the child is safely protected in their seat. Power child safety locks also protect them from any adverse movement outside of the vehicle. Volvo also offers dual two-stage integrated booster seats on some of its models.
To find out more about child safety, stop by our dealership to look at solutions to keep your precious ones safe inside your Volvo.