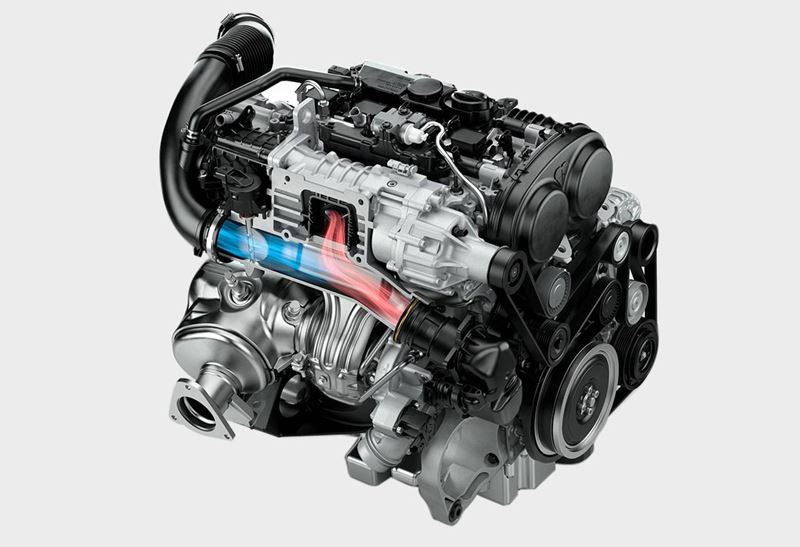 Volvo Engine Architecture: Drive-E
Volvo has been known as leaders in vehicle safety. With safety, comes other reasons why Volvo has the enthusiast's following it does today. 
Performance is a quality Volvo takes seriously. Turbocharging has been a part of the company's heritage since 1981. The mighty 242 Turbo showed that Volvo could boost up the horsepower to make it a player in the performance stakes. Turbocharging became an integral part of many Volvo cars since. 
It is not enough to turbocharge a car anymore. They are no longer made for just performance. Today's engines are demanding. They need to be a combination of performance and economy. They may have to be boosted to gain more horsepower and torque. While they need to be superlative in performance, they also need to be balanced, quiet and flexible. 
Volvo came up with a solution that combines all of these attributes into one new line of engines. They call it Drive-E. 
It begins with a four-cylinder engine with a 2.0liter displacement. Codenamed VEP4, it is part of a new Volvo Engine Architecture that was engineered from the ground up. The goal of this new family of engines is to balance efficiency and performance. 
To achieve this further, turbocharging is added for the first layer of added performance. These will become the new T5 engines. However, to replace the more powerful engines in the current lineup, the T6 adds a supercharger on top of the turbocharger for added performance, while achieving new benchmarks in fuel consumption. 
Current Drive-E engines available are the T5 turbocharged version with 240 horsepower and the T6 turbocharged and supercharged version putting out 302 horsepower. In the upcoming 2016 XC90, the T6 engine will be uprated to 316 horsepower. 
As an example of the kind of fuel consumption figures the Drive-E engines achieve, the S60 T5 FWD and V60 T5 FWD models can get up to 37 MPG. 
Drive-E engines can also accommodate additional electric motors for even more performance and efficiency. The 2016 XC90 will come with a plug-in hybrid version of the Drive-E engine called the T8. There are other plans for hybrid Drive-E models for the future, including plug-in models. 
To get the Drive-E lineup of engines, choose from the 2015.5 S60, S90, V60, XC60, and XC70. These models offer the Drive-E engine with front-wheel drive at this time. When the 2016 XC90 arrives, the Drive-E engine will be available in all-wheel drive. 
The new Volvo engine may have a different approach these days, but it did start from somewhere. From that start, the future seems bright thanks to the new lineup of Drive-E engines.