Contact Us
The 2022 Volvo C40 is the latest EV from Volvo Cars. The 2022 Volvo C40 pushes the eco-friendly brand mission forward while boasting impressive EV performance and a 100% animal-free luxury interior. We'll fill you in on the latest information and specs that Volvo Cars allows us to share at this time while sharing insights into key model influencers that make the 2022 Volvo C40 a performance EV like no other. You might also enjoy exploring our Volvo XC40 Recharge pure electric SUV, or just scroll below to learn about 2022 Volvo C40 EV ownership and a vision of the future promised by Volvo Cars.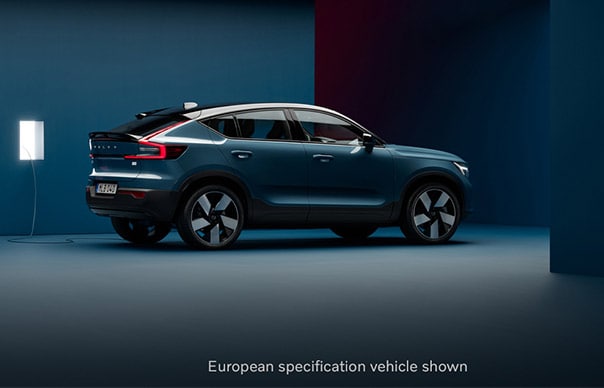 2022 Volvo C40 Recharge Range, Pricing & Specs
To understand precisely what the 2022 Volvo C40 is, we need to take a look at the source of her inspiration. She's an evolution of past success, infused with the DNA of two current models. The award-winning Volvo C30 was a hatchback produced by Volvo Cars from 2006 to 2013 and was one of the first Volvo cars to feature the scalable Drive-E platform. The 2022 Volvo C40 continues to move the sport-hatch bodystyle forward, but it does so with heavy influence from the critically-acclaimed Volvo XC40 Recharge and the Polestar 2. Polestar is the stand-alone performance arm of Volvo Cars.
Exact EPA mileage has not been released, but we can lean on the fact that the Polestar 2 gets an EPA rated 233 miles of pure EV cruising while the Volvo XC40 Recharge delivers an estimated 208 miles of pure EV driving.1 Both of these vehicles share nearly the same underpinnings, with bodyweight being a key differentiating factor (perhaps accounting for the difference in mileage estimates). The Volvo C40 Recharge pure electric slots between these two, so one can speculate about her estimated range.
The 2022 Volvo C40 uses the 75-kWh lithium-ion battery and two electric motors for permanent eAWD. This delivers 402hp with a gut-punching 0-60 of just 4.7 seconds. This particular platform can charge from 0 to 80% full in about 40 minutes (with the right equipment), and drivers can enjoy wall-charging, AC charging, or DC fast-charging. While the official Volvo C40 price hasn't been released yet, we're anticipating it to fall between the Volvo XC40 Recharge, which starts at an MSRP of $53,900, and the Polestar 2, which starts at an MSRP of $59,990.2 Both vehicles qualify for the $7,500 federal tax credit, as will the 2022 Volvo C40.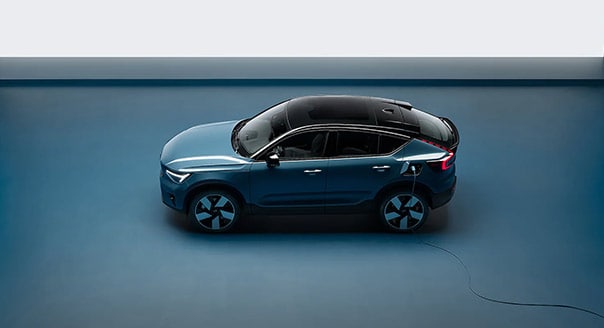 Volvo C40 Interior & Technology
There are many things that are unique about the Volvo C40, but none more so than the cabin, where you'll be spending most of your time. The cabin will offer the first luxurious seating trims without the use of any animal material. The Volvo C40 borrows storage solutions also found in the Volvo XC40 Recharge and innovative design cues from the Polestar 2. The Polestar 2 offers signature trim options based on the names of some of the most dynamic cities in the world. As a nod to the brand's global fingerprint, you'll see an illuminated topographical map as a dash-trim in the Volvo C40.
Another notable point about the Volvo C40 EV relates to the experimental purchasing platform released with this vehicle. You'll be able to reserve, configure, and order your Volvo C40 fully remote without ever needing to visit a showroom. Other enhancements will include the all-new Google operating system, innovative adapt & dip LED headlights, as well as the latest level-4 autonomous driving suite from Volvo Cars (likely as an option only). The only model to offer a semi-autonomous driving mode as a standard feature is the Volvo XC90 family of vehicles. This nameplate includes the Volvo XC90 Recharge plug-in hybrid and the forthcoming Volvo XC90 EV.
Volvo C40 and EV Ownership FAQs
How long does it take to charge the Volvo C40?
While official details have not been released yet or generated by the EPA, the Volvo C40 shares the same platform with the Volvo XC40 Recharge, which can charge from flat to 80% full in as little as 40 minutes (with the right equipment).
What will the price of the 2022 Volvo C40 be?
We expect the price of the Volvo C40 Recharge to slot between her two siblings: the Volvo XC40 Recharge and the Polestar 2. A launch MSRP starting at about $55k is expected.2
When is the expected release date of the Volvo C40?
You can reserve your Volvo C40 Recharge now! Deposits are fully refundable, but with an arrival anticipated by Q1 2022, do you really want to miss out?
What will the range be like for the Volvo C40 Recharge?
While the EPA has not officially released the mileage estimates for the Volvo C40, we anticipate a number around 210mi+.3
Which vehicles are in competition with the Volvo C40?
The Volvo C40 will compete directly with the Audi Q4 e-Tron, Tesla Model Y, and Mercedes EGA.
Is driving an EV complicated?
Not at all. Driving an EV has many advantages, including priority parking at virtually all retail and public locations. Furthermore, 56% of charging stations in the Richmond, VA, area are absolutely free to use.
Reserve Your Volvo C40 & Breathe Easy
We're at an interesting point in time for the automobile industry. It seems like manufacturers are starting that shift from ICE power to EV solutions on a daily basis. This is good news for a planet with finite resources and heated debates on climate change. Explore our new Volvo car inventory, which features the most efficient mobility solutions yet. Previously, EV drivers were concerned about range and charging - rightfully so. But fortunately, you can now drive a vehicle like the 2022 Volvo C40 across the country without any reservations. Releasing the Volvo C40 is part of the brand's mission to be environmentally neutral by 2040. With climate change and limited resources being hot topics on the news these days, vehicles like the Volvo C40 can help us all breathe a little easier.
View Other Volvo Models for Sale in Richmond, VA:
1EPA estimated range only. Your actual mileage and results will vary.
2Prices shown are Manufacturer's Suggested Retail Price (MSRP), Base Price or Starting At price and excludes destination fees, taxes, title, license, and registration and/or electronic filing fees, dealer fees. Images shown are for informational purposes only. They may not necessarily represent the configurable options selected or available on the vehicle and they do not show true renderings of colors and/or upholstery. We cannot be responsible for typographical or other errors, including data transmission, display, or software errors, that may appear on the site.
3This vehicle has not yet been EPA rated. EPA-based range estimates for this vehicle are pending. Range estimates are based on preliminary estimates derived from the European Union's Worldwide Harmonised Light Vehicle Test Procedure (WLTP). Real-world driving range will vary. Range information will be updated after EPA estimates for this vehicle are available.