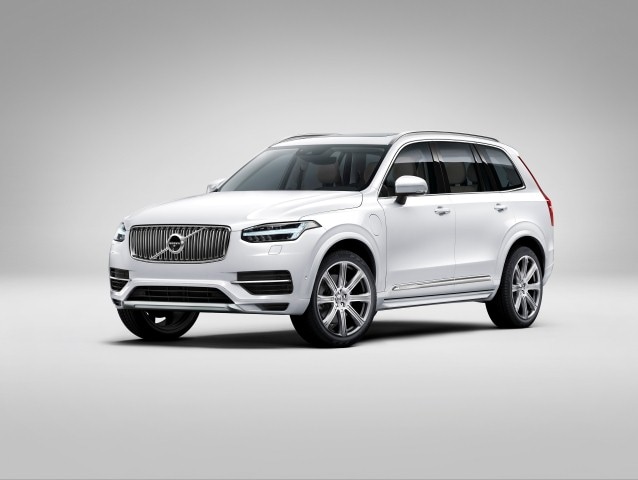 The most anticipated Volvo is coming.
You have seen the photos and heard about how much Volvo has put into the XC90. It will be here before we know it. There is a lot to say about our new luxury SUV.
Volvo aimed the XC90 to not only be the top of the range. It has aimed it to be environmentally friendly, capable, luxurious and safe. It will feature our latest technology towards these goals.
For example, we will introduce our Twin Engine technology in the T8 version. It starts with a 2.0liter Drive-E four-cylinder engine. An electric motor is added to the Drive-E engine along with the ability to plug in for more battery charge. The result is a 24 miles range in Pure Electric mode. You can also switch to a Hybrid mode to engage both motors and allow for battery regeneration upon lifting the throttle. Total power output is 400 horsepower and will emit ultra low emissions from the tailpipe.
In the T6 model, another Drive-E engine will include both a supercharger and a turbocharger that will put out 320 horsepower and 400 pound-feet of torque. All engines will be mated to an 8-speed automatic and all-wheel drive.
The XC90 will also use the full capabilities of the Sensus user interface. It will allow the driver to take control of their vehicle through a series of screens and menus to customize their experience. For additional functions, Sensus will enable a cloud-based series of apps to download for further customization, along with a mobile app to facilitate these controls away from the vehicle.
Above all, the XC90 will become one of the safest vehicles in the world through a comprehensive suite of active and passive safety features. Among these are two world exclusive features – run off-road protection package and auto-brake at-intersection. Run off-road protection enable both passive and active features – including energy-absorbing functionality of the seat cushions and backrest to keep the spine from incurring injuries – when presented with an airborne situation that will require a landing away from the path. Auto brake at-intersection is enabled when a driver turns in front of the vehicle. It will automatically apply the brakes when that situation occurs.
The XC90 will also feature adaptive cruise control and Pilot Assist. Both active safety technologies work towards a semi-autonomous driving experience, giving the car partial control when safety appears to be compromised.
When you order your XC90, you can choose from various options that will fit your lifestyle. For example, there will be an R-Design model that provides a sporty and dynamic air in your driving experience. The Inscription model adds a higher level of luxury and technology to your XC90.
Like you, we are eagerly awaiting the arrival of the XC90 into our showroom. When they arrive, we hope you share the enthusiasm that many have shown for this brand new Volvo luxury SUV.