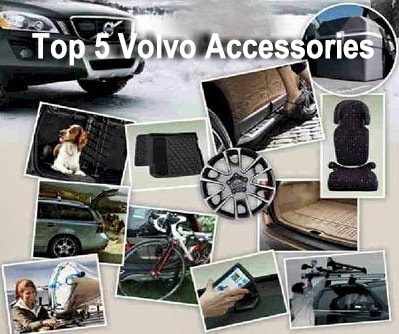 According to Webster's Online Dictionary, "Accessorize" is defined as: to provide or compliment with a fashion accessory.
synonyms: compliment, enhance, set off, go with, accompany, decorate, adorn, ornament, trim.
Usually, that means a woman who adds jewelry to her outfit to complement her dress.
However, we're not talking about dresses in this case. We're talking about Volvos.
Yes, you can accessorize your Volvo as many Volvo owners have done that to their favorite car over the years. There are so many more options than what we can list here.
In fact, most Volvo dealerships will tell you that their customers add new accessories to their cars quite often. Here is my own list of the Top 5 Volvo Accessories as requested by our numerous customers over the years:
Rubber floor mats: Tired of spills, debris and other junk cluttering your Volvo floor mats? Then these new Volvo Rubber Floor Mats may be the answer. These mats stop spills with a nonstick surface that makes them easy to clean and easy on the eyes. It also protects your carpeting from being damaged.
Cargo tray: They come in all shapes, sizes and colors and fit all Volvos. These trays line your trunk and are computer-designed to fit snugly and carry just about everything you can carry in your Volvo. One cool feature: A raised lip that keeps spills, dirt, and grease away from the interior. No smells. either!
Remote start: Who wouldn't love an accessory that pre-heats or pre-cools, defrosts your windows and controls the climate, all before you eat your breakfast, pick up your briefcase and walk out the door? This amazing starter does it all and is becoming so popular that they're on back order.
Roof rack: As you may remember from our Youtube video, this rack system has 2 cross bars 51" long, 4 low-riders towers and also locks and keys. Its load capacity is 60 lbs per bar and 120 lbs total. The Volvo Roof Rack has cross bars, ski/snowboard attachments, bike attachment, luggage basket and roof box. Volvo owners carry big luggage containers and 3-4 bikes at a time. This rack does it all and Volvo owners are buying them in droves.
Hitches: These have ball mounts and are mega-strong. Volvo owners pull trailers, boats, motorcycles on flatbeds and any other item with these hitches. They're rugged and also popular with hunters and fishermen.

This is the short list and we may have missed your favorite.
But, the list just goes to show what we already know: Accessorizing your Volvo is not an option, it's a requirement!