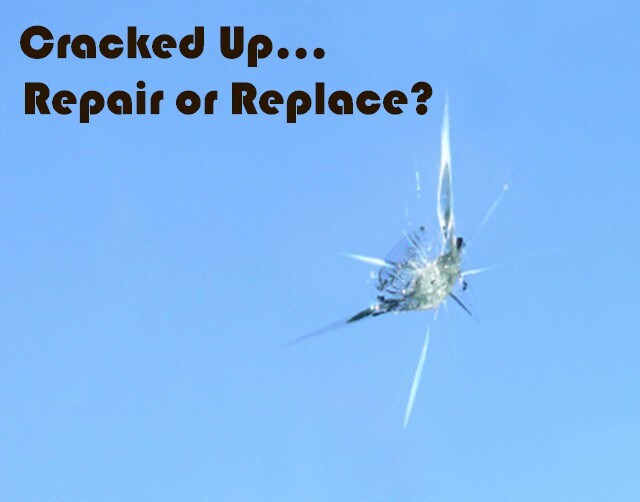 It was inevitable.
After a cold, brutal winter here in Central Virginia, you walk out to your Volvo one morning as you start it up to head to work and then discover it: a crack about 11 inches just below your sight line on the driver's side.
You run your right index finger from the bottom of the crack to the top of it. You then mutter a few bad words under your breath, press your forehead against the top of the steering wheel. How did this happen?, you ask yourself. Was it a gravel? Heavy ice? Snow pellets? Oh, what does it matter. It happened and now you have to figure out whether you need to repair it or replace it.
So, now you need to determine: Should I Repair or Replace my Volvo Windshield?. Here are some factors to consider:
Check the location of the crack: If it's in the middle of the windshield, it may be filled and repaired. If it's on the outside edge of the windshield, most likely it will need to be replaced. If it is in the driver's line of vision, the shop may not even repair it as it leaves some distortions in the glass and compromise the driver's vision.
Get it repaired quickly: If you delay getting it repaired, dirt and grime can can work its way into the crack which will impede the technician from effectively repairing the damage. Also, the longer you delay repairing it, the odds are of the cracked section growing larger and what may have been merely a repair, may become a full replacement which would be more expensive, of course.
Cost of repair/replacement: Except for certain metropolitan areas, the cost of glass repair or replacement is standard across the country. If the crack is larger than three inches (3"), it may need more specialized labor and machinery to repair it. Additionally, your Volvo's windshield may require a molding kit and installation work. Many Volvos can range from $175 to $800. Call your local Volvo dealership to get rates.
Call around to find a reputable glass repair company:The technicians who do this type of specialized work vary greatly. Volvo dealerships, Automotive glass specialists, Windshield repair facility, general glass services and mobile glass repair companies all have glass replacement technicians on staff who can repair your windshields. Check out their websites to see the prices but, most importantly, see which one can do it soon. All of the ones mentioned can either do the work in your driveway or at their service center and do it quickly.
Call your insurance agent: Most all car insurance policies cover windshield repair or replacement. However, it is less expensive to repair than replace, which can four or five times higher, thus the coverage on your Volvo is much different for both. If your windshield needs replacement, your insurance company requires you to pay your deductible first and then they'll pay for the complete replacement. If you're only repairing the windshield, you can keep your shirt. Insurance companies know it's more economical to repair it so the company may even waive the deductible and pay it all. Your car insurance agent and claim representative will take you through the process.

Bottom line: Don't delay. Get that windshield damage that occurred over this miserable, brutal winter repaired or replaced soon. The longer you delay the inevitable, the worse it will get. Or, the more you put you and your passengers in danger. Make it, and this snowy winter we just had, a distant memory.