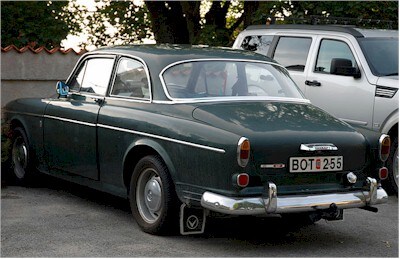 At long last the Volvo V144 was no longer just a prototype and a breakthrough car on paper. In 1966, it had finally arrived.
The V144 was the most advanced in safety features that Volvo had built, yet. It had disc brakes, new buckle for the 3-point seat belts, energy crumple zones in the body. Its brakes were the most impressive to the US consumer in that if one braking circuit failed, it still had 80% capacity. The 144S also had a very powerful engine that appealed to the North American driver.
That same year, Volvo also unveiled its new version of the Amazon: 123GT. It was more of a sports car version with a four-speed overdrive.
Volvo celebrated its 40th Anniversary in 1967 with the 145 Estate which was actually not that much different than the previous models other than a one-piece tailgate and with roof hinges. Its safety-conscious steering wheel was unique in that it collapsed during a collision. By December though, the 4-door version of the Amazon became a collector's item as the new Volvo 144 was phased in.
When 1968 rolled around, the Volvo 164 was experiencing all kinds of revisions. It was equipped with power steering, fancy carpeting, a larger engine that had six cylinders and could reach up to 109 mph. It looked good in either black or white and taxi services were buying it up. It was not just popular in the US, but England was buying them for both taxi and personal uses.

As the decade was closing, so were the Volvo Duett and Amazon Estate lines. The legendary and beloved Duett (Volvo 145) now had a raised roof. Amazon Estate was succeeded by a new 140 series with front seat head restraints and a heated rear window. Amazon was survived by a 2-door version with two engine alternatives.
The summer of 1970 was the official end of the Volvo Amazon, more than fourteen years and 667,000 vehicles later. The closing of the Amazon line was greeted with sadness even though Volvo was looking ahead to a new 140 with designs that would appeal to the youth market, the iconic Amazon would live on and its popularity has only increased more than forty years later.
If you love history, check out our Volvo History articles...