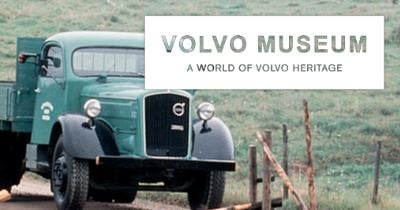 There are all types of museums for, seemingly, every hobby or interest.
From The Garbage Museum (dinosaurs constructed from trash) in Connecticut to The Hall of Flame (history of firefighting) in Arizona and, one of the strangest we've heard of, The Burlingame Pez Museum in California which is just what it sounds like: A museum dedicated to Vintage Pez Dispensers. And there's more, too: spy museum, bad art museum, toilet museum and...well...this is a family blog, so we'll stop there.
So, it only makes sense that there is a Volvo Museum. Located in Goteborg, Sweden (of course) and near the Volvo Corporation headquarters, The Volvo Museum was created, as its website says, "to preserve the history of Volvo and make it know to the public". It's owned and operated by the Volvo Car Group and it's not just about the cars. either. Volvo trucks, buses, Penta and construction equipment are also featured.
Although it opened only nineteen years ago, it has become a popular destination for Volvo lovers, enthusiasts and just plain car lovers, ever since. This non-profit venue showcases Volvo from its humble, for Swedes-only carmaker to the now massive, international car manufacturer with an almost cult-like following.
As it's website (
www.volvomuseum.com
) says, you can see the Volvo prototypes, innovations and the iconic cars you've seen since you were a kid. On the Ground Floor, there is real hodge-podge of Volvo items. You'll see the first Volvos from the 1920's, the Volvo Aero, popular (an not-so-popular) hybrids, trucks and even the Volvo Ocean Race yachts. It is a splash of color, styles and modes of transportation.
On the first floor, you'll see five decades of Volvos, from the 1930's to the 1990's. From taxis to sports cars to station wagons, the collection highlights every milestone of Volvo car innovation. Once you pass those exhibits, you'll then conclude with the Volvo Racing Fleet. It is a mind-blowing exhibition of Volvos that would make any Volvo owner kiss the ground out of appreciation.
Event photos are plentiful on the website though the navigation leaves a little to be desired. Nonetheless, you can have a decent "virtual visit" as most readers will probably not make it to Sweden to see it.
Perhaps, The Volvo Corporation or some enterprising Volvo collector will open a Volvo Museum in the United States. In the meantime, check out the website and other sites on the web. If you've been there, please tell us about it! Just pardon our envy.
If you love history, check out our
Volvo History articles...