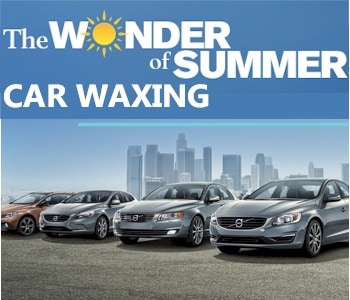 Summer is more than half-way over and you still haven't checked off "Wax the Volvo" on your Honey-Do list.
That's okay as you still have a month of hot weather left and you can get your Volvo nice and shiny before your Saturday trip to Busch Gardens or before you take the kids to their first day of the new school year. You don't want to show up with a Volvo caked with three years of soot and grime, do you?
We didn't think so, so before you embarrass your family with a grimy Volvo, take these steps to make your favorite car presentable. Here is your guide on How to Wax Your Volvo for a Lasting Shine:
Check the weather: Wax your Volvo in cool to warm temperatures. Temperature should be 85 degrees or below but no cooler than 55 degrees. Also, do the washing and waxing under a shelter so you have some shade as wax does not cling to the surface if it's too hot.
Wash it thoroughly: Wash your Volvo's surface with soap designed for car finishes. Do not use regular dish soap as a cleanser. Instead, purchase a soap specifically created for washing car finishes. Let it dry thoroughly.
Apply small amount of wax: Take a silver-dollar amount of wax and drop it on a damp cloth or a foam applicator. (Sponges are problematic as they tend to collect rocks which can scratch the surface as you was.) Then, apply the wax to small sections of your Volvo at a time. You may want to use a random-orbit buffer, a low-power wax buffer that polishes without damaging the finish. The rule of thumb is to do 2' foot-by-2 foot' sections of the body. Never apply wax to the entire surface before rubbing it in as the wax will dry and be difficult to remove from the surface, possibly causing a permanent stain.
Start on the roof: Make a gentle, rotating movement with the cloth or sponge. Whatever you do, don't push it too hard on the finish, no matter how old and dull the finish may be as the wax may permanently damage your paint job.
Wait on the polish: Let the paint become more matt before shining it with a separate cloth. Confirm that no wax spots are left unwaxed.
Take each section of the Volvo at a time: Wax each door next. This gives you an opportunity to compare the waxed one to the unwaxed one.
Let it dry and matt: Then, re-examine each section to make sure all wax has been buffed and removed. Any leftover wax paste can cake and cause damage to your paint. Be sure to look at each section thoroughly before finishing the job.
One Important Car Wax Note!: If you're not sure which type of wax to buy, know this: Polymer wax are sealants that bond to paint and last longer than a Carnauba wax before having to be reapplied. Carnauba waxes are taken from palm tree leaves and are know for having a "wet" look that is absorbed deep into the paint but does not last that long.

Summer hasn't ended and there are many trips to be taken in your Volvo, so wax it now as winter will be here before you know it.